Here Are Some of The Best Vaporizers You Can Buy
The best vaporizers you can buy can be found at HoneyStick. If you're wondering where the greatest dab vape pens and vaporizers for dry herb can be found, take a look at these cutting edge devices that are sure to keep you and your wallet feeling right. HoneyStick is a leading seller that touts some of the best complete vaporizing products on the market, let's check out their online store at VapeHonyStick.com for my favorite deals they have to offer.
Phantom – 2 in 1 Squeeze Box Vaporizer
Let's start with the Phantom Vaporizer, a 2-in-1 design that is compatible with wax and oil. The trick is that by making the mouthpiece and tank removable, you can switch between materials easily. The squeeze action trigger gives it a comfortable feel, while the diminutive design makes it a fantastic portable vaporizer. You have the choice between black or silver to match your style.. Also consider how the heating options work. That's right, you can control the heat of this handy piece to get the most customized experience out of your session. Thanks to the 1000 mAh rechargeable battery, it doesn't take more than a few seconds to reach ideal temperature. The Phantom 2 in 1 Squeeze Box Vaporizer is an example of the best complete tools for reliable, portable vaporizing at the squeeze of your hand. Snatch up one of these for $129 for your next go-to vape.
Benefits:
– Temperature control
– Switchable tanks, one for Wax and second for Oils
– Durable build
The Ripper Essential Oil & Wax Vaporizer
Next is the Ripper Vaporizer, one of the best vaporizers you can buy in conceal vaping class. The Ripper is compatible with whatever form of medicinal product you choose to vaporize. This fine piece sports a high capacity 1300 mAh rechargeable battery, a ceramic tank, a quartz tank, a charging cable and the vaporizer itself. From a distance, this device may look like a simple lighter, but up close you can truly see this is a top grade portable vaporizer in both design and function. Open up the top cover and gaze in amazement at how this stealthy ripper turns into a full-blown vaporizing device, all while fitting in the palm of your hand. Slightly more expensive than the Phantom at $139, this little blazer's worth every greenback. Reviews have stated that, although this piece lacks some of the customizations of other items on this list, the flavor, and power of each rip makes this a toker that stands fine the way it is.
Benefits:
– Ergonomic design
– Stealthy design
– High powered battery
– Spring-loaded the flip top
The Sport Sub-Ohm – one of the best vaporizers you can buy for your oils!
You'll be hard pressed to find a dab vape pen or starter kit as effective and popular as the Sport Sub-Ohm, by Honeystick. At under $170, this hard-hitter ranks up there with some of the best wax vape pen or dab vape pen rigs, as long as you take advantage of the addition of mods. The dry herb mod or oil tank mod lets you turn your vaporizer into a portable reflection of your toking dream. Both a great starter kit or a well-seasoned aficionado's next obsession, this is a perfect fit for anyone looking for the most advanced dab pens money can buy. The digitally controllable temperature is a must have, because it lets you make the most use out of each session and bring out natural flavors. Since this is one of the most powerful items on this list, it's going to need a serious battery to power the LED lights and reach target temperature at fast speeds. Thanks to the 2,000 mAh battery, this is a breeze. You're also looking at a vaporizer that can reach up to 600 degrees Fahrenheit, which is far hotter than many of the same type. Built to last, the steel body can take on anything, with the leather trimmings and a 510 cartridge being icing on the cake. Pick this one up for a classy, ingenious addition to your collection. Definitely best vaporizers you can buy for oils!
Benefits:
– High power charge and usage
– Leather-trimmed grip
– Digital controls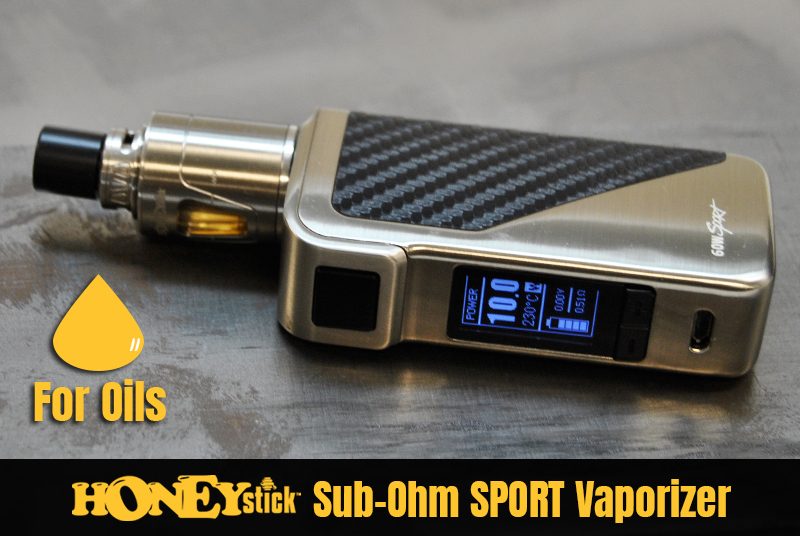 The Bestselling vaporizer for oils & concentrates OG Sub-Ohm Carbon Fiber
Last up on our look at the best this site has to offer and the best vaporizers you can buy is one of the most high-tech vaporizers available. If you want something that hits hard and works better than any other piece you own, look to this helpful rig at just under $200. Aluminum and stainless steel housing make this a long-lasting puffer that's as compact as it is durable. Bonuses such as an extra replacement coil and 510 cartridges ensure that this is the final word vaporizing on-the-go. You'll be seeing around two and a half hours of charge time, with a max temperature at 600 degrees Fahrenheit. The difference between a product like this and most other vaporizers on the market is how much control you have over the function of the piece. You can control, degree by degree, how hot the chamber gets and achieve ultimate zen in each puff. Remember that this is a fully customizable vaporizer; therefore, you'll want to consider what kind of tank and battery mod works best for you. It's easy to turn this guy into a wax vape pen with a simple change of the tank. If you can only handle the most advanced and convenient technological wonder for your vaporizing needs, jump on the Sub-Ohm Carbon Fiber and you won't be disappointed.
Benefits:
– Comes with replacement coil
– Fully moddable
– Compact and powerful
We've gone over some of the top vaporizers you can buy, at some of the most alluring prices available. Remember that each of these tools has different capabilities. If you're looking to vaporize dry herb only, then double check that there is a compatible tank. If you need a battery that lasts especially long, go for the Sport Sub-Ohm which has one of the highest capacity batteries. Picking up a 2-in-1 kit like the Squeezebox means that you'll have built-in options that don't require the addition of parts. Another aspect to think about is how streamlined you would like the shape of your piece to be. The Sub-Ohm vaporizers adhere closer to what a traditional pen looks like, while the Phantom and Ripper are more closely designed to an e-juice vaporizer. Whatever kind of vaporizer you're looking for, I hope that this article has raised your knowledge of what's on the market and allows you to make the perfect buying decision.